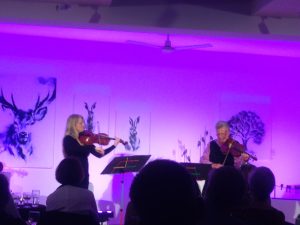 What a wonderful evening.  An intimate setting with a glass of wine.  Perfect lighting bringing her sisters paintings to life.
Australian viola player  Michelle Urquhart and her friend Marco van Pagee gave a delightful solo viola and viola duet recital.
Michelle is the NSW representative for Keratoconus Australia and all proceeds from tickets/donations will come to the KC Group to be used for research into KC to benefit those with KC worldwide.
It is worth quoting this from the programme:
"It was whilst studying music at the Sydney Conservatorium that Michelle's eyesight started to fail.  She underwent her first corneal graft.  It failed, and for four and a half years she was legally blind.  Following serious eye infections and rejection she underwent an emergency graft.

Sight restored, Michelle threw herself back into her music.  'Having my sight taken away and then having a second chance at music with my successful transplants has been a miracle and the great gift of my life.  I want to make the most of every moment and share my music with the world, and support others with Keratoconus.' "