We had another great 14 mile walk through London.  Not as green as last year but architectural interesting and physically challenging, walking to Islington, Camden, then looping past Hampstead Heath, up to  Belzise Park and Primrose Hill.  The second half took us around regents Park then through Hyde Park and St Jameses Park.  We finished with refreshments in the old County Hall building.
Here we are at the end:
Laura D'Silva, Nawaz Rahman, Susie Nyman and David Gable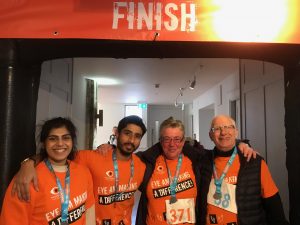 Here is our report from  March 2018.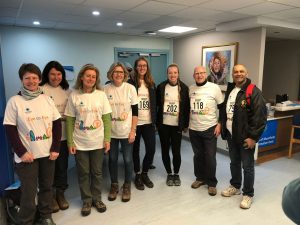 Eight of us formed the KC team among the 500 walkers.  We gathered in front of the piano in Moorfields reception for this photo ready for our 14 mile track.
After two of the coldest days in decades, the sun came out to send us on our way.  It was a bright crisp morning with plenty of ice still floating on the canal.
The route was perfect, we all found parts of London we had never seen before.  It traced the Regents Canal, with a few detours through places of interest, to Little Venice.  Then turned south to Paddington for our half way stop.  The second section took us through the royal parks and theatre land.
The temperature was ideal for walking, as was the company.  We were so busy chatting that the miles flew by and after 5 hours we had completed our task and settled down to coffee, cake and a steel band.
This is an annual event and I thoroughly recommend it for next year.   We raised well in excess of £1,000 and are overwhelmed by the generosity of friends and family. 
One hiccup, we were so busy talking about the Royal Opera House that we missed the 1/2 mile loop around Lincolns Inn, but don't tell anyone.