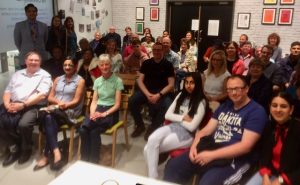 Our thanks to John Thatcher for organising such a successful meeting on Saturday 12th May.
46 people attended, including quite a few first-timers, and the speaker Mr Sai Kolli MA was excellent.  A typical comment being,
"I'm glad I came as I've learned more in 90 minutes here than the hospital ever told me in 7 years of visits."
This sets the scene nicely for our ninth conference which will be held in Birmingham on 15th September 2018.  Details to be announced soon.